Sunday Hunting Bans
For many years, Sunday hunting has been a hotly debated topic in several US states. Blue Laws, which prohibit certain activities on Sundays, including hunting, were put in place many years ago due to religious affiliations. However, as time has passed, many people have questioned the relevance of these laws in the modern era. While some states have permitted Sunday hunting with restrictions, others, like Pennsylvania, have had a complete ban on it for over 200 years.
Ban Removals (Sort Of)
Pennsylvania residents have been advocating for the allowance of Sunday hunting for years. They believe that lifting the ban would allow more people to enjoy the sport and would bring in revenue for small businesses in rural areas. Finally, in 2019, the Pennsylvania Game Commission granted their wish and allowed for three Sundays a year for hunting. The Pennsylvania Game Commission made this decision after careful consideration and analysis of the impact it would have on the community. They saw that allowing more hunting opportunities would not only increase revenue for local businesses but also provide more opportunities for traditional work and school schedules to accommodate hunting trips.
In addition to Pennsylvania, other states have also been changing their Sunday hunting laws. In Maine, lawmakers have been looking to lessen the restrictions on Sunday hunting. Maryland lawmakers are also looking to expand on the existing Sunday hunting opportunities.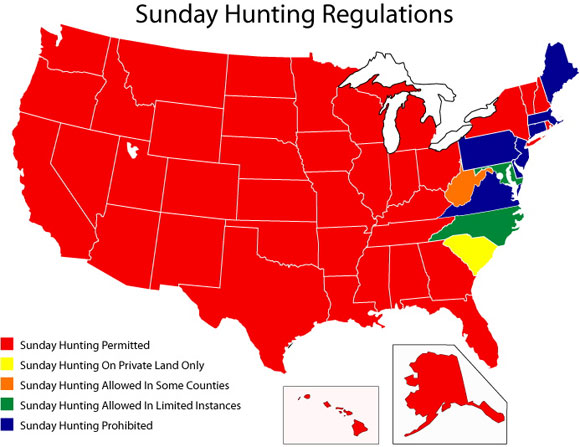 Other States Response
The switch to more Sunday hunting opportunities has been a gradual process. For instance, in 2018, West Virginia allowed Sunday hunting on private land in some counties. Connecticut, Pennsylvania, New Jersey, Delaware, Maryland, and North Carolina have allowed Sunday hunting in limited instances. In Virginia and South Carolina, Sunday hunting is allowed on private land and public waterways with restrictions. All other states have no restrictions and permit hunting on Sundays.
What Does Change Mean For Residents?
With the changes to the Sunday hunting laws, there have been some safety concerns. However, the Pennsylvania Game Commission and other state wildlife agencies have taken steps to ensure safety in the field. Hunters are reminded to be responsible and take safety precautions when hunting on Sundays.
Conclusion
The switch to more Sunday hunting opportunities has been a slow and gradual process, but it is gaining momentum. Lawmakers and wildlife agencies are recognizing the benefits of allowing more people to enjoy the sport while also generating revenue for local businesses. With more changes on the horizon, it's important for people to be aware of both sides of the argument and make informed decisions. By doing so, we can help make the outdoors safe and accessible to all.
You can read more about Sunday hunting bans by clicking here. Likewise, you can read more Northeast hunting news by clicking here.
So, what are your thoughts on Sunday hunting? Does your state allow it? Let us know in the comments!